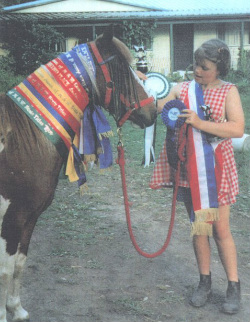 Trigger and his rider, young Emily Smith were entered for the inaugral Wayaba Wish Perpetual Trophy in 2004.
Part of a huge equestrian event promoting pony dressage, the Wayaba Wish competition consisted of two sections.
First, the pony had to be entered in two selected dressage tests at the event.
Second, an essay of approximately 500 words had to be submitted in advance. It had to be the true life story of the competing pony: the sponsors were looking for ponies who had come to dressage from a very bad beginning in life.
Emily and Trigger won the inaugral Wayaba Wish Perpetual Trophy. To find out more about Trigger's incredible story, you can read his Wayaba Wish essay entry:
Trigger's Tale
Trigger with Emily
Photograph: Ingrid M. Smith