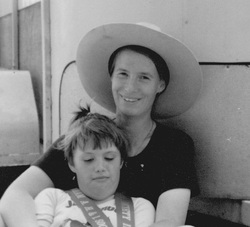 Little Australian Pony Girl is now available in a completely new format: ebook.
This edition is especially designed, updated and edited for ebook format. Too many illustrations do not complement an ebook
so I have selected six photographs from the original book. They were chosen with great care: for ease of viewing and to support the text. The ebook edition is also several thousand words greater in content.
Download your copy
here
.
All comments and reviews are most welcome.
The photo shows the author with daughter Emily, the original Little Australian Pony Girl and was taken when the original book was released.
Photo: Peter Smith.