Quality Quill

Selected Quality Articles from my Quill
---
---
(As told by Emily for the Wayaba Wish Perpetual Trophy essay)

Little Trigger joined our family when he was two years old. Friends at Horse Rescue Australia phoned us with a problem. They had this small pony gelding in their care: there was nothing wrong with him physically, but it had become very clear during his time at Horse Rescue, that he would need exceptional care and mangement. The necessary yard facilities; other ponies and animals to help him settle; a vast amount of time and love; a family with a proven history of working with troubled ponies; all this and much more would be needed to restore confidence to this terrified little pony.

Horse Rescue explained about his totally understandable fear of humans: a form of electrical torture had been used on him. He had already broken the kneecap of one person at Horse Rescue. The hope was integration into a suitable pony family but finding the right family would not be easy. Were we interested in coming out to have a look at him? There was one point in his favour: they thought he just might have showing potential.

All the family made tracks for Horse Rescue, with Dad pointing out we already had 5 ponies. We fell in love with the sturdy little pinto gelding on sight. He stood at just under 11.2 hands and we immediately saw he had the most beautiful paces, as he fled across his small paddock from us. It took seven adults to corner him and literally pick him up and load him on the float.

Three generations of our family have worked with the handling of problem horses and ponies: all the family agreed they had never seen an animal so terror struck. It was quite dreadful to see such naked fear of human beings.

Trigger (as he was named, by my Uncle Greg), was put in a small, grassy yard, very strongly fenced and next to the house. This meant that every single time any person walked out of the front door, they passed his yard. In the small paddock next to Trigger's yard, was our yearling colt: a real home-bred and hand reared spoiled darling, who thought humans the most wonderful creatures in the world. The two boys formed an instant bond of friendship across the yard fence and are still inseparable paddock mates to this day. We hoped that Nutty would help to
convince Trigger that some humans were not too bad and it would certainly not hurt Nutty to see some attention go elsewhere. The plan worked very well on both counts.

We very quickly worked out that men headed Trigger's list of fears. He did not seem to mind Mum so much. Mum then spotted that Trigger was worried least of all by me: I was ten years old at the time and about the same height as his eyes, when he was standing tall. I used to spend hours every day, just sitting quietly in a corner of his yard and talking to him, but never making any move to go to him. I waited till he was relaxed enough to accept me and interested enough to investigate me, which happened a lot more quickly than we might have expected.

It would take so much more than five hundred words to tell the tale that covered the next two years. Trigger was broken to saddle by the family and I introduced him to the show ring under saddle, and to the Dressage arena. It took a long time for him to overcome his horror of the rails surrounding the Dressage arena.

Trigger has had endless success in just so many different types of events: at local, state and national level. In relation to Dressage, he won the award for the most successful Dressage mount (horse or pony) at the Pinto State Titles in 2000 and 2001. In 2002 and 2003 he was sashed as the most successful overall Dressage Pony at the Australian Saddle Pony NSW National Show. Also in 2002, Trigger represented NSW at the Australian Dressage Championships and CDI-W at Sydney. He has never been unplaced in any Dressage event he took part in.

Trigger has now lived with our family for over six years. He and I both enjoy our partnership so much: every time I see those gaily pricked chestnut ears in front of me, as we canter along, I remember a frightened pony who was once far too terrified to accept a titbit from my hand.

© Ingrid M. Smith
---
An invaluable text book for all who wish to learn more about their personal place in today's fast moving world.
Ease of purchase through Kindle/amazon: excellent. At time of purchase I was in an area notorious for poor reception, downloading and stable connection. The book downloaded within minutes.
Justine Hart has created the ideal text book for those people who want to take more than a hurried glance at where they stand in today's world. You are gently but firmly encouraged to take a good look at yourself and your place in life; having done that, suggestions are made for taking action and making change.
The writer has the gift of humour, which she uses to illustrate different situations. She also has a penetrating understanding of today's world, both the positive and negative issues. With no hint of despondency in her words, Justine Hart makes some very clear statements about the society we live in: which we have created, hoping to better ourselves. She is also amazingly practical, which I love.
Some of Justine's words which I most enjoyed and appreciated are:
Just imagine a world with only priests and prophets, novices and nuns, ministers and saints and no one to attend to sanitation!
You have helped to create the day's events; your participation will have made a difference.
Do not immediately make hasty assumptions on a particular mood and manner.
People seem to be working harder and longer, but are they creating something better?
It seems possible that soon we could be enmeshed (and floundering) into a fluctuating economy that dictates little personal thought and much spending of money! Is this not happening already?
Do we not all appreciate a clean house and delicious meal, so nice to come home to?
Consider for instance the tiny invisible sparks and symbols of enthusiasm, excitement and laughter. They are very contagious and will zip, sparkle and spread through the air very easily and quickly.
It feels as though we have our freedom and independence, but do we really have full control of this ever expanding monetary need? Could this be another time of servitude and dominance?
There are more concerns; is all this easily bought merchandise and produce conducive to our good health? There is the frightening possibility that everything that we need to buy will soon be doused and doctored with chemicals, preservatives and colorants. We are only just discovering the many harmful effects.
Justine illustrates many of her points with entertaining yet serious anecdotes. We have the story about anger going down the line: it starts with the boss in his office and ends with the poor cat getting a rough time. There is the tale about missed opportunity and the different coloured boxes tied with different coloured ribbons.
There is the
mandatory mobile mania:
(what a grand piece of alliteration)
We will shop, eat, drink, arrange for a plumber, check the emails, take a conference call and sell a new project all in the blink of an eye. Or was it our lunch break?
The Gift of Originality
is an invaluable text book suited to many people. Whether you question your role in today's world or whether you wish to argue with some of Justine's points,
The Gift of Originality
makes an exciting and intelligent read. I thoroughly enjoyed reading it, learning from it and reviewing it.
Go to
Download The Gift of Originality
---
In 1997, the American variation of the royal Lipizzaner stallions came to perform at the Sydney Entertainment Centre. The family sat spellbound: as owners and trainers of show ponies, we could really appreciate what we were seeing.

Miss ten year old sat in a front seat, not speaking for the entire performance. I guess that alone should have told us that we were on the eve of some great happening.

After the wonderful performance, on the way out to the car park, a small temporary shop caught our attention. Lined up on the counter was an array of Lipizzaner goods. My interest was caught by the unusually good quality of the items for sale. Miss ten year olds interest was caught by a line of shining yellow boxes, each displaying a Lipizzaner stallion. The name Breyer meant nothing to us. One of the shining yellow boxes
found its way home with us.

'Look Mum', said Emily, 'his name is Pluto and he is number 475'. She looked thoughtful.'475. There must be an awful lot of these Breyer horses, Mum'.
'Yes, dear', I said vaguely, never for a moment realising that Pluto was anything more than a charming memento from a delightful afternoon out. Oh boy, I had a lot to learn.

Later that night I found some leaflets a thoughtful shop assistant had tucked into the bag carrying Pluto's box. A copy of something called Just About Horses, some details about Breyer and a few ideas on model horse collecting. Model horse collecting-goodness, what on earth was that? In a moment of curiosity I filled out a form in Just About Horses, added it to my rather large outgoing mail pile and promptly forgot all about it.

A few weeks later, an unknown envelope arrived. I seemed to have won a subscription to Just About Horses (JAH) for two years. Ah well, I thought, it did not cost me anything and it might be interesting reading material. I was rather surprised at the gusto with which Emily pounced on each copy of JAH. Seemed a bit beyond a ten year old, I thought.

Over the next two years, JAH continued to arrive steadily. I was nearing the end of the subscription, when I found that I had been awarded a two year extension, free of charge. This seemed quite incredible to me, and finally, my curiosity got the better of me. I wrote to Breyer in the United States. Some very interesting information came back, and for the first time, I heard of Kerren and Rob Hampton at R and K Farm Toys. It seemed I had been in the right place at the right time. Breyer were encouraging people who purchased Pluto at the Sydney Entertainment Centre. It was a goodwill exercise tied in with the royal Lipizzaner stallion tour of Australia.

Now with a three year supply of JAH to browse through, I was finding more and more interest in the horses for sale section in each volume. I was especially interested in the people selling off whole collections of hundreds of models of horses and ponies. Behind each advertisement must be a great story: all those years, maybe decades, of collecting and then the changes in circumstances which might force the sale of a lifetime's collection.

One evening, after finishing all the paperwork associated with running a pony stud farm, I replied to a number of the horses for sale advertisements, by email. At this stage, all I asked for was a catalogue of the items to be sold, to be emailed, faxed or mailed to me.

The most prompt and business-like reply came from Heather Story in Connecticut, in the United States. Over the next year, we became firm friends via email. We exchanged letters, cards, photos and books. Oh yes, and I also purchased part of Heather's model horse collection. It
was a very exiting day, when I got notification from customs, that a large crate of model horses was awaiting me at my little local Post Office. Heather had packaged each item so perfectly, that she might have read Gail Berg's wonderful article on Organizing Chaos. The models even survived being opened twice at customs. I think Heather's packaging must have terrified them from going beyond the top layer.

About this time, I made my first purchases from Kerren and Rob Hampton. This was the beginning of another wonderful association. Their efforts to ensure that my now thirteen year old Emily received her Breyer Christmas presents last year went way beyond the call of duty. It was also through them that I first heard of AIMHC. (Australasian International Model Horse Club)

Heather and I are happily negotiating on another crate full of model horses. Heather decided to sell her collection in two parts and the second lot was advertised in the most recent JAH. As I thought, the story behind her Breyer collection is very special.

The Breyer family in our household is divided into two smaller families. The beautiful show models come under my care and live in the lounge room, behind glass. They often come out to be looked at, but are not for playing with. Then we have the models which show a little wear and tear; these are cared for by Emily. They currently live in boxes, on shelves and on the spare bunk in Emily's bedroom. They are washed, groomed, plaited and cared for, to within an inch of their lives. They go to imaginary shows; they have their own rugs and bandages; they jump jumps all around the house. Each pony has a tiny bucket full of grain cereal, borrowed from my pantry. They stand, happily munching, in long rows.

Maybe the next stage will be model horse shows, preferably live. I am afraid we know absolutely nothing about model horse showing, so if there is such a thing as a set of rules and regulations, they would be much appreciated.

Much has happened since Pluto arrived at 24 Bayfield Road. All of it has been good.

Published 2001
---
Dalmeny was a different place back in the 1960s. It was the most wonderful place to grow up.

The photograph shows the writer, aged two years. Just out of sight, on the right hand side, the Whale Watching Platform would one day be built, in Ocean Parade. But that was many years from 1963, when this photograph was taken.

Sheep grazed over the whole headland.Our dog chased an ewe down the cliffs into the sea. My mother, who was seven months pregnant with me, was horrified. She rushed down the cliffs in hot pursuit and managed to rescue the ewe. All parties involved were fine, although I think mother was rather shaken by the whole affair.

Of course there was no laid on water; we all had water tanks. When the rain failed to appear, water had to be purchased from the local police. The police must be greatly commended for the wonderful job they did in those years.

A tanker of water cost five pounds. To put this in context with the times, it cost five pounds a week to feed a family of four. One year, the drought was so bad, the police delivered water to us twenty times. I can so clearly remember the day that we first got laid on water; it was a celebration indeed and it was mother's birthday.

There were only two or three children in Dalmeny during my early school years. It was the responsibility of our parents to get us into Narooma to school each day. As there was no coastal road via Kianga in existence, we reached Narooma by going back down to Dalmeny turnoff and along the Princes Highway. Hardly any families owned two cars; most were lucky to own one car which worked on a reliable basis!

Our parents were very pleased when Dalmeny actually had five children in permanent residence. Once a community had five children, the responsibility of getting them to school belonged to the state government. We then went to school by taxi.

We had a very large vegetable garden, managed by mother. There was pretty well nothing she could not get to grow. From salad vegetables to strawberries, mother could grow it all. We also kept poultry.

One very early childhood memory; my father, along with the other men, fighting the fire that nearly engulfed Dalmeny. I can still see father, a huge watering can strapped to his back and shoulders, spraying the flames with water. While the men battled the fire on the front line, the women ran a bucket brigade. Mother helped save a neighbour's laundry outhouse. The huge blaze was finally stopped along Noble Parade, where it connects with Ocean Parade. Some fences and outhouses/sheds were burned but no homes or lives were lost.

To finish on a happier note, Dalmeny provided her few families with the most wonderful Christmas trees. Binalong Street was a dusty road, leading to native bushland. Mixed in among the gum trees were a scattering of beautiful pine trees. Fathers, accompanied by excited children, would pick out their special tree for Christmas. Families would even drive out from Narooma to get a tree.

Thank you Dalmeny; you were a wonderful place to spend the first eighteen years of my life.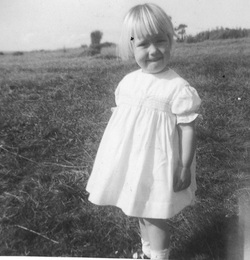 Published in 2001
---
My mother, Dorothy Thomsen, died on 30th September 2011, following a tenacious battle with Chronic Lymphatic Leukaemia. It is to my mother that I owe thanks for introducing me to the world of books; I can never remember a time when books were not a part of my
daily life.

Mother spent hours reading to me every day; she herself came from a book loving family and knew the joys that came with this love. She taught me never to walk out of the front door without a book under my arm or in a pocket.
The Chronicles of Narnia were an early favourite; I received the set for my sixth birthday. We both adored the old favourites such as Heidi and Alice in Wonderland. Dear Teddy Robinson, Paddington Bear and the Doctor Dolittle books were followed by Tove Jansson's Finn Family Moomintroll series.

No books were ever banned to me; I was welcome to attempt to read anything in the home. And read everything I did, from the Children's Illustrated Bible to my father's precious war collection. I do recall mother gently suggesting that some titles were perhaps best not taken to school; this was when I discovered The Pursuit of Love by Nancy Mitford. Aged twelve, I adored it, which mother quite agreed with; it was more what other parents and some teachers would have said.

Mother made reading such a joy and pleasure. We would discuss our current reading matter at great length and delight in making
recommendations for each other's reading lists. No birthday or Christmas ever passed without a new book or two from mother.

Of course, it was mother who introduced me to The Abbey Girls and EJO. She gave me a Children's Press edition of The Abbey Girls at Home. Unfortunately, neither of us realised it was heavily abridged. I was not at all impressed with a story that just did not make sense. Poor mother was so disappointed with my reaction; she loved the books greatly as a child and had hoped to welcome me to an exciting new world.In spite of this, the book remained on my shelves and I would try it again every so often. I am afraid further reading did not improve my understanding or my acceptance of the book and characters!

I was fully adult and a mother myself before I realised the extent of abridging in so many books. I was appalled to discover how many books I had read only a badly arranged abridgement of. Mother was equally horrified when I explained my discoveries to her.

It was through a fellow member of Friends of the Chalet School that I tried EJO again. This lovely lady sent me a box of unabridged EJO books from England. I promptly fell in love with The Abbey Girls. Mother and I then spent many wonderful months, working our way through the box of EJO books, happily discussing each one with great enthusiasm.

My mother, a lovely English lady, understood the world of EJO. Mother was born just after the First World War ended, and supplied me with endless details from that era. Her own mother, my grandmother, was born in 1890, making her an exact contemporary of EJO.

During her final two years, mother's eyes caused her endless pain and trouble. Large Print books were quickly replaced by talking books. Audio books and tapes became a major factor in her daily life. We borrowed them from numerous libraries and purchased where practical. It was while caring for mother I began wondering if anything had been done about recording any EJO books, for people with major vision problems.

During mother's final months, our roles were changed. It was now I who read out loud to mother. We were sharing Daisy Ashford's The Young Visitors during her last days.

As I closed The Young Visitors for the last time, I smoothed the cover gently with my hands. Images from the past flashed across my mind; a small girl cuddled up against her mother, eagerly listening as the pirates with red sails chased dear Doctor Dolittle. An older girl now, struggling with set books for school; her mother patiently is explaining problem chapters, having naturally read all the books herself, first. A grandmother, with a different little girl on her lap, introducing another generation to the world of books; this time it was Thomas the Tank Engine. Books, reading and mother; the three always have been and always will be one of the most positive and vital influences on my life.

Published December 2011